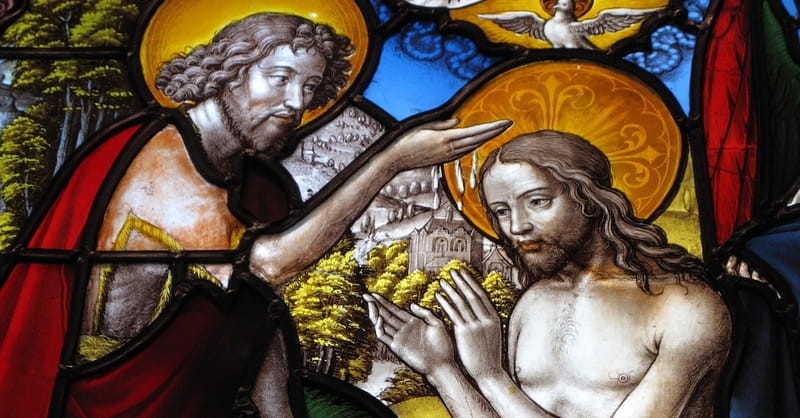 Sermon for the Third Sunday in Advent preached on December 11, 2022.
It must have been hard for St. John the Baptist. After preaching repentance to the high and mighty, ushering crowds to the edge of the water for baptism, and being such a force that even Herod the King could not threaten him, it was gone. He was alone and in prison, waiting for a certain death. His disciples are fidgeting – uncertain what to do and what to believe. John sends them to Jesus both for himself and for them. "Are you the one who is come to come or should we look for another?"

It was a question no one could answer with words. John the Baptism was a man of words – like any preacher. His disciples followed him because of the words he preached. But at this juncture, St. John was looking for more and so were his disciples. Jesus knows this. Jesus does not dazzle them with sophistry. He points to the signs of the Kingdom. What do YOU see and hear? The blind see, the lame walk, the lepers are cleansed, the deaf hear, the dead are raised, and the poor hear good news. Notice that Jesus does not point them to themselves or their own lives or their own answered prayers. What they see are the marks of the Kingdom and not simply the markers of their own satisfaction with how things were going.

Jesus comforts John with the assurance that he was faithful. He did not bend his preaching to the wind of public opinion or dress for success. John was a mighty prophet – mighty in word but mighty in deed. Jesus was assuring John that the Kingdom John was preparing for was also mighty in Word and mighty in deed. John was Elijah – the prophet who did not die but was gone up on a chariot of fire is now come down to wait in prison for the Kingdom of Heaven to come. He who has ears to hear, let him hear.

My friends, faith is a waiting game. It is not about the moment or the short term but endurance. We all wait upon the Lord. From the rich and famous to the poor and anonymous, we wait upon the Lord. But the Lord we wait upon is not a God whom we do not know. He is our Savior. He is God in flesh. He is the redeemer who pays for our redemption with His blood. He is the risen Lord whom the grave could not hold. He is the healer in whom all our ills of body and soul will find an answer in the resurrection of the body and the life everlasting.

John will not make it out of Herod's prison. There he will die. His head on a platter by the command of a corrupt and blaspheming pretender to the throne. But John did not die a failure. And John will not end in death. John's victory is the victory of God's Word of hope and promise fulfilled in Jesus Christ. John's end was not decided by deceiving mother and her voluptuous daughter. John's end was decided when Jesus rose from the grave, when He ascended to His place of glory at the right hand of the Father, and when He said that today we shall be with Him in paradise.

My friends, you live in the tension between what faith sees and what your eyes see, between what faith knows and reason sees, between the promise and its fulfillment. You live where John lived but now John sees face to face and soon you shall see clearly as well. Do not hold too tightly onto a life that is meant to pass away, to a body that is meant to be replaced with one new, and to a world that is even now passing away right before your eyes. John did not look like a victorious believer living a victorious life but Jesus said John was the mightiest of all the prophets ever to speak thus saith the Lord.

You may not look like a mighty believer living a victorious life either. But Jesus says you are even greater than John – any and everyone who is least in the Kingdom of heaven is greater than the greatest of the prophets every to live! That is simply because John believed a promise when everything said to give up hope and you believe in the promise kept and the Word fulfilled when everything said it would never be. We confess the creed every week because we need to be reminded of the fact of what Christ accomplished for us. By this creed Jesus points us what He has done just as He once pointed John's disciples to what He did.

You are not alone. God's Word still speaks. His absolution still restores. His flesh and blood still feeds. What matters is faith. Faith waits for God's future to come. And in the meantime, faith turns our doubts and fears to Jesus. He is our comfort, our hope, and our peace. Least in the Kingdom is greater than the mightiest everywhere else. Don't surrender your hope. Let it build you up. When you face the worst moments, do not tear up in despair or waver in doubt but look with eyes of faith to see all that Christ accomplished and all that is yet to come. Then wait. Wait upon the Lord. Wait patiently. God is faithful and He will bring it to pass.

John had to wait until the body of death he wore was replaced with the body of life. We are in the same place. We should work like dogs to make sure that the love of God is manifested in our loveless world but we dare not believe the lie that this world is getting better or that we will figure out a way around death. There is only one shape of faithfulness – to wait upon the Lord now and eternally. Though this body be destroyed, yet in my new flesh shall I behold the face of God and not another. Job said it long ago, maybe John forgot it in the moment, but Jesus is there to remind them and us that this is the Gospel and this is our faith.

1The wilderness and the dry land shall be glad;
the desert shall rejoice and blossom like the crocus;
2it shall blossom abundantly
and rejoice with joy and singing.
The glory of Lebanon shall be given to it,
the majesty of Carmel and Sharon.
They shall see the glory of the Lord,
the majesty of our God.

3Strengthen the weak hands,
and make firm the feeble knees.
4Say to those who have an anxious heart,
"Be strong; fear not!
Behold, your God
will come with vengeance,
with the recompense of God.
He will come and save you."
5Then the eyes of the blind shall be opened,
and the ears of the deaf unstopped;
6then shall the lame man leap like a deer,
and the tongue of the mute sing for joy.
For waters break forth in the wilderness,
and streams in the desert;
7the burning sand shall become a pool,
and the thirsty ground springs of water;
in the haunt of jackals, where they lie down,
the grass shall become reeds and rushes.

8And a highway shall be there,
and it shall be called the Way of Holiness;
the unclean shall not pass over it.
It shall belong to those who walk on the way;
even if they are fools, they shall not go astray.
9No lion shall be there,
nor shall any ravenous beast come up on it;
they shall not be found there,
but the redeemed shall walk there.
10And the ransomed of the Lord shall return
and come to Zion with singing;
everlasting joy shall be upon their heads;
they shall obtain gladness and joy,
and sorrow and sighing shall flee away.
In the Holy Name of Jesus. Amen.