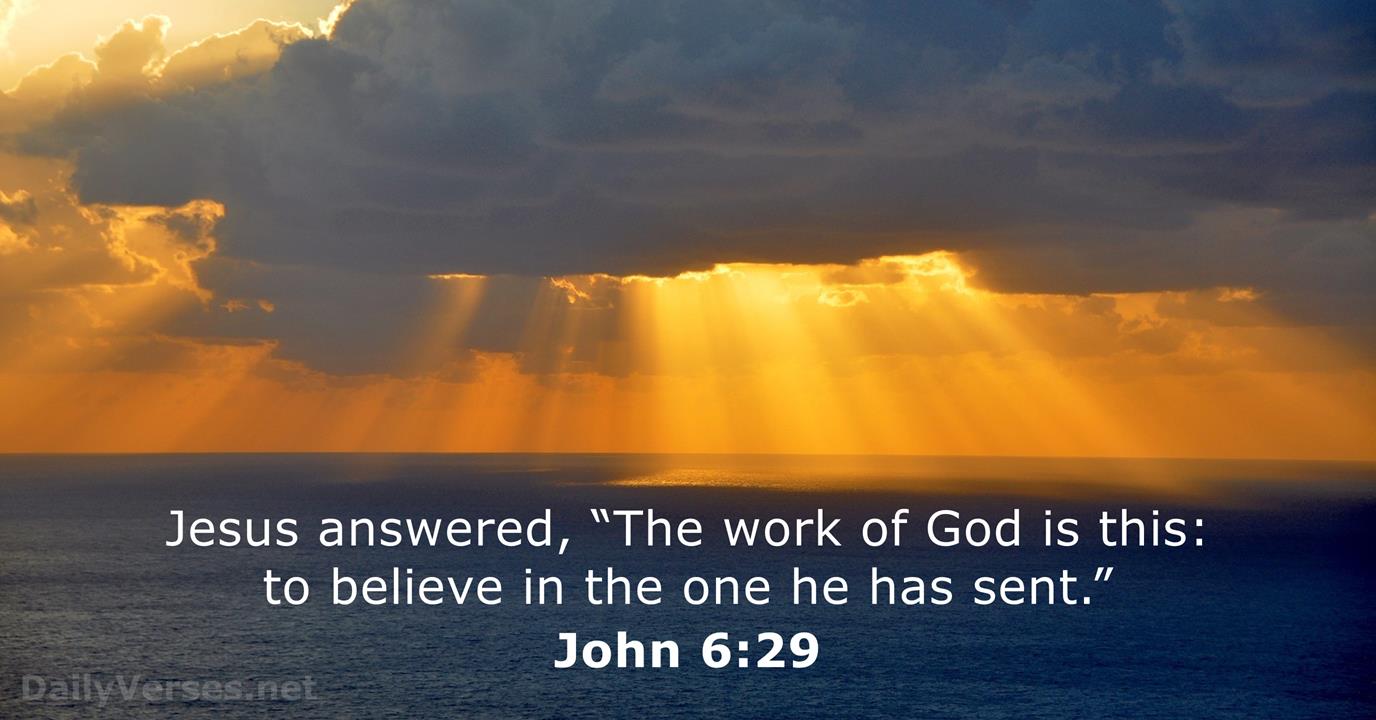 Sermon for the Tenth Sunday after Pentecost, Proper 13B, preached on Sunday, August 1, 2021, by the Rev. Daniel M. Ulrich.
I'm going to start this sermon off with a controversial statement. Work is good. Work is good. That's a sentence we don't often agree with. We don't think work is good. We think leisure is good, free time is good. Work is just a necessary evil to get to leisure. But work isn't evil. God has given us work to do, therefore it's good. Before the Fall, back in the Garden when everything was perfect, God gave Adam and Eve work to do. They were to tend the garden and care for the animals. Work is good. The problem we have with work then, it doesn't come from work itself; but from our sin and from us only working for temporary things. That's what the crowd in the Gospel reading were doing. They were working for temporary things. They were only seeking out bread for their bellies.
The Gospel reading for today is the "rest of the story" of the feeding of the 5,000 that we heard two Sundays ago. Jesus had fed an enormous crowd with just 5 loaves of bread and 2 fish. And after that meal, He told the disciples to get in the boat and go across the sea, while He stayed back and dismissed the crowds. That night then, when the disciples were halfway across the sea, Jesus walked on water to them. Then, the next morning, the crowd came looking for Jesus. They knew He didn't get in the boat with His disciples, but they couldn't find Him; so they too sailed to the other side and found Him at Capernaum. They asked how He got there, but Jesus didn't answer that question. Instead, He spoke to the real reason as to why they came looking for Him. "You are seeking me, not because you saw signs, but because you ate your fill of the loaves" (John 6:26). The people came looking for Jesus not because of the teaching they heard the day before, and they didn't even come because of the healing miracles Jesus performed. No, they came because they were hungry and they wanted Jesus to give them more food.
The crowd was only concerned with the temporary. They worked to find Him because their bellies were empty. Their whole focus was the here and now. Their whole focus was on passing things. And isn't that what we focus the most on? Don't we work and work and work for temporary things? Of course we do.
Most of our work is for temporary things. Just like the crowd we labor for food to satisfy our bellies. A large portion of our monthly household budgets goes to buying groceries, and a good portion of our day is spent on preparing meals and eating them and cleaning up after them. And the rest of the day we spend just thinking about what we're going to eat.
But it's not just food that we work for. We spend a lot of time working on our homes, making sure they're just the way we want them. We work at decorating them, mowing our lawns and tending our gardens. We spend a lot of time fixing things that break, like water heaters and garage doors and toilets.
And we also work for leisure. How many of us have worked specifically so we could earn money for a vacation or trip? Or how many of us have worked in order to buy some kind of toy; whether that be a toy from an actual toy aisle, or the electronics department, or a car lot? We work to fund our hobbies. All week long we look forward to the weekend so that we can play and have fun.
Now don't get me wrong. I'm not saying all of this stuff is bad and that we shouldn't work for them. Remember, God has given us work, and in order to fulfill the duties and responsibilities of our vocations, we need to work. Husbands and wives, fathers and mothers, children, we all have to work to support and care for one another. We need money for food and home and clothing. So the point here isn't that we shouldn't work for these things. The point is that we shouldn't only work for these temporary things. To do so would turn them into gods and idols.
All of these are temporary. They'll all perish. They'll all go away. No matter how much food you eat, you'll be hungry again in a few hours. And no matter how nice your home is, something will always need to be done to it. And no matter how much fun you have during your leisure time, that fun is only temporary. So instead of working for just these temporary things, things that all perish, things that can't guarantee you eternal life, we need to work for that which does give eternal life.
That's what Jesus told that crowd. "Do not work for the food that perishes, but for the food that endures to eternal life, which the Son of Man will give to you" (John 6:27). No matter how important food for your belly is, no matter how important shelter and other physical necessities of life are, none of it gives eternal life. None of it overcomes death.
Hearing Jesus' words, the people asked a natural question, "What must we do, to be doing the works of God?" (John 6:28). They thought Jesus was telling them that they had to do something to acquire the food for eternal life. They thought they had to do some sort of specific work. But the works of God that lead to eternal life isn't something you do. It's not your work. It's God's work.
The work of God is this: "that you believe in him whom He has sent" (John 6:29). This is faith, trusting in Christ your Savior and in His promised grace and mercy; and that's God's work. We often think that faith is our doing, that we create it, and that it's all up to us to believe. We make that decision. But that's not true. Faith isn't your work, it's God's. He works it in you. No one can say "Jesus is Lord" except by the Holy Spirit (1 Cor 12:3). The Spirit brings you to faith through the waters of Baptism and through the hearing of His Word. And it's this gift of faith that looks to Christ and His redemptive work on the cross.
Jesus is the food you need that leads eternal life. "The bread of God is He who comes down from heaven and gives life to the world. … [Jesus] is the bread of life" (John 6:33, 35). His flesh and blood, given and shed for the forgiveness of sins, is what you eat and drink when you come to this altar. And in that eating, you have eternal life. This is the food that you should be working in faith for. This is the food that you hunger for.
Because of the faith we've been given, we purposefully come here every Sunday to hear God's life-giving Word and to eat this life-giving Bread, because it's the only thing that lasts. All the other food we eat, all the other stuff we work for, it's just temporary, only for the here and now. But that bread and that wine are for the here and now and for eternity. It's for the life and forgiveness you need today, forgiveness for your idolatry in working for gods made up of temporary things. And it's for the life and salvation to come when you no longer hunger or thirst but eat at the Lamb's High Feast forever. All of this is God's work for you.
Work is good. The work of God is good. And the work He's given us to do in our vocations is good. This work we do with faith, working not only for temporary things, but for the things of everlasting life. We work not just for the food of our tables, but for the food of God's table. We come with faith wanting to eat the Bread of Life, Christ's body and blood. And with this eating, you will have what your Lord promises, eternal life. In Jesus' name...Amen.