Read the
text of the Pope's letter
on the sex scandal in the wake of all the publicity from Pennsylvania and the silence of so many bishops. You know what you will not find in that letter? No mention whatsoever of homosexuality. No mention of bishops. No plan to resolve the crisis. What you will find is the Pope laying the blame on
clericalism
and another promise of zero tolerance. And echoing his vague promises and insistence that he gets the problem and cares about a solution, well, who else but Cardinal Cupich and Fr. James Martin -- both known as friendly to the GLBTQ cause. So. . . it is clear that Rome not only does not understand the cause or scope of the problem, but the Pope is unwilling to be the point man for a real solution.
By the by. . . if there is ever a modern pope more inclined to the clericalism sin, it is Francis. He cannot abide his critics or anyone to disagree with him, demotes people who ask him questions, promotes his cronies (complete with their own baggage), micromanages even those whom he has put in place as leaders, and refuses to act in the open but under the cover of secrecy, anonymity, and uncertainty. We have met the enemy and it is us.
UPDATE
In an 11-page written statement (
see official English text here
), Archbishop Carlo Maria Viganò, 77, insists that Pope Francis not only knew about strict canonical sanctions imposed on McCarrick by Pope Benedict XVI but chose to ignore how serious the threat was and repeal them.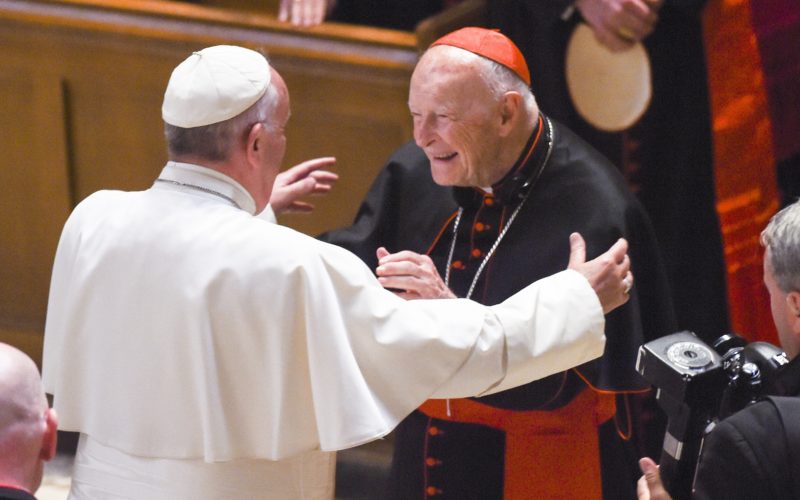 In testimony dated August 22, Archbishop Viganò, apostolic nuncio in Washington D.C. from 2011-2016, states that in the late 2000s, Benedict had "imposed on Cardinal McCarrick sanctions similar to those now imposed on him by Pope Francis," and that Viganò personally spoke with Francis about the gravity of McCarrick's abuse soon after his election in 2013. But, he says, Francis "continued to cover him" and not only did he "not take into account the sanctions that Pope Benedict had imposed on him" but also made McCarrick "his trusted counselor" who helped him to appoint a number of bishops in the United States, including Cardinals Blase Cupich of Chicago and Joseph Tobin of Newark. Archbishop Viganò also implicates Cardinals Sodano, Bertone and Parolin in the cover-up and insists various other cardinals and bishops were well aware, including Cardinal Donald Wuerl, McCarrick's successor as Archbishop of Washington D.C. "I myself brought up the subject with Cardinal Wuerl on several occasions, and I certainly didn't need to go into detail because it was immediately clear to me that he was fully aware of it," he writes. The Cardinal's "recent statements that he knew nothing about it … are absolutely laughable. He lies shamelessly."