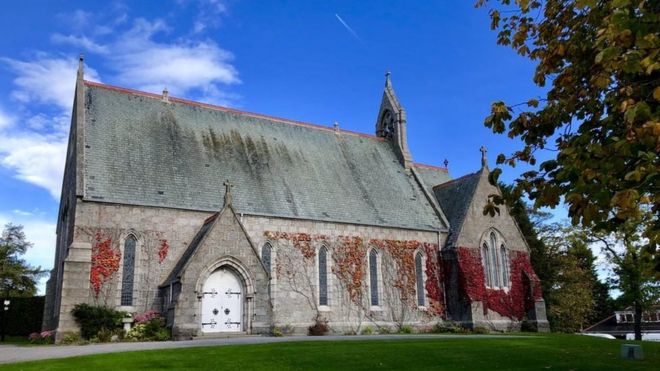 One of the churches set to close.
I grew up when the word Scotch also referred to being a careful spender. Or, to put it more bluntly, to be cheap! Apparently the Scottish Church is looking at what they need and what they don't with a view to divest themselves of some unnecessary assets.
According to the BBC:
Almost half of Aberdeen's churches are being considered for sale as part of a "once in a generation" review. The 10-year plan recommends 15 buildings for disposal, with 15 being retained and the future of a further three under consideration. The ChuMy rch of Scotland report said it aimed "to reshape the church estate". Rev Scott Rennie, planning convener for the Presbytery, said there were "many more" church buildings than needed and that "difficult choices" lay ahead.
Aberdeen is not alone. Shetland is set to close 20 churches.
Yet this is being framed not so much as a consequence of decline as an opportunity to cash in on unneeded assets.
The Presbytery of Aberdeen review is to "allow for the renewal and revitalisation of the national Church in Aberdeen".
Rev Rennie, of Queen's Cross Church, explained: "The Presbytery has a legacy of many more church buildings than they need. "We recognise that we will have to make some difficult choices on which buildings should be retained and which should be let go. "At the heart of our decision-making process is the desire to see a sustainable future for the Church of Scotland and its effective mission and pastoral care for the people of Aberdeen Presbytery.
Interesting that at the same time the conversion of one of Aberdeen's church buildings into a mosque was also announced. It seems that there are some people who remain religious and some religions looking to increase their presence. The Church of Scotland is not one of them.
My point is this. The decline of Christianity in the West is not a Roman phenomenon nor is it a Roman problem. It is a problem that has found more churches rather than fewer and it will continue until at least we admit that the issue is the message as well as the methodology. We cannot correct a message problem with new and creative means. The most serious issue Christians face is whether or not they believe the Word of God. In the face of so many defections over sexuality, transgender, climate change, environmental issues, etc., too many churches have forgotten the Gospel and have nothing to say to the world except to mirror back to the people their own preferences and prejudices. In the end, more buildings will be sold for the cause of relevance. You can count on it.