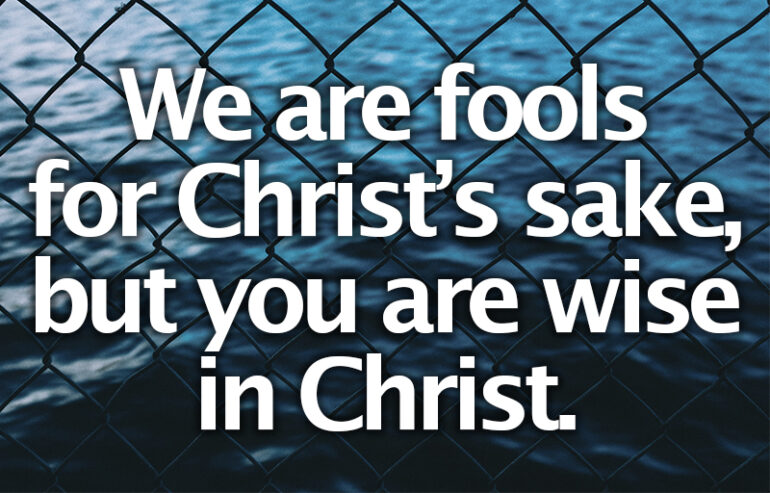 Sermon for the Funeral of Larry Arthur Harris, preached on Thursday, November 21, 2019.
Dr. Larry A. Harris was born in El Paso, TX, to Lavonne and Luster (LP) Harris. Larry lived in various places but called Palmyra home for much of his life. He was received into God's Kingdom through Holy Baptism as an infant in 1950 and was confirmed in his baptismal faith on May 2, 1965. Larry liked to say that he was "Lutheran always." He was a member of Grace Lutheran Church for nearly 27 years.
Larry was an APSU alumnus and a member of the Sigma Xi. Although his first desire was to be a forest ranger, he ended up with a biology degree and began work with a shovel at the zinc plant. Before becoming a chiropractor, he was a mechanical engineer – toying for a time at becoming a pastor. Larry operated the Harris Chiropractic Clinic for 26 years. He was well known among the business community of Clarksville.
Larry was survived by five of his children; Natalie (Tim) Weatherford, Nicole Harris, Tiffany Harris, Amelia (T.J.) Mobley, and Colan (Cassidy) Harris, nine grandchildren; Kaley, Chandler Weatherford, Kaitlyn, Christopher, Hunter, Hayden, Taylor Flemister, Joshua Wyatt, and Noah Mobley, one great grandchild; Elouise Williams, the mothers of his children; Patricia Edwards and Kelly Burwell, and longtime companion, Carmen Reagan. He was preceded in death by his daughter, Andrea Wyatt.
I knew Larry Harris for more than 26 years. How shall I say this. Larry was a character. At times he would open his mouth and none of us knew what was going to come out. I am not sure Larry did either. There is no shortage of stories to tell and Larry would not shy away from any of them. He was certainly not a forgettable individual. He was a character. But God knew past it all and saw who Larry was in his heart.
Larry's faults and failings were not hidden away. He would tell you about them just in case you missed them. What you saw was what you got with Larry Harris. And we are here in this Church today because God loves characters like Larry. Jesus came to be the Savior and Redeemer of those who hide not their sins away but confess them to the Lord. And the blood of Christ cleansed him from his sins and it will for each of us.
The Psalmist says that the fear of the Lord is the beginning of wisdom and by that definition Larry was no fool but a wise man. When he died on Sunday, he died with the voice of Jesus in his ears and with the taste of Jesus upon his lips. He had just been to Church which was his custom on the Sundays. We all know where he sat. He did not come in too early but not too late to greet a great many folks along the way to his seat.
And today we give thanks to the Lord who speaks into the ears of His people with the voice of His Word, who feeds His people upon their lips with His holy body and precious blood, and who in death opens their eyes to see Jesus face to face.
We spend a great deal of time and effort in this world trying to protect ourselves. We hide our mistakes lest people think less of us for the foolish things we have said and done and the sins that would shame us. We work very hard to put on a face of wisdom, of calm, and of stature. We do this so that we will find recognition and approval from others. But there is only one wisdom and that is the wisdom of faith and there is only one approval that matters, the judgment of God.
The Psalmist says that the fear of the Lord is the beginning of wisdom. In Corinthians St. Paul reminds us that we are fools for the sake of Christ, determined to know and to believe in the one and only Gospel of Jesus Christ crucified and risen. For the wisdom of the world will pass away and all that a man thinks of himself and all that others think of us will fade away into nothing. But the foolishness of a God who loves sinners, who has sent His Son to suffer in our place upon the cross and die our death, that will last forever.
Larry knew this. He said to all the time that he was Lutheran always. And to be Lutheran is to know this Gospel. That God so loved the world that He gave His only-begotten Son that whosoever believes in Him should not perish but have everlasting life. To be Lutheran is to know that sins which remain hidden cannot be forgiven but those confessed to God are covered with the blood of Christ. To be Lutheran is to know that your sins that touch the lives of those around you are also not beyond the healing power of Christ and His redeeming love. To be Lutheran is to glory not in your decision to be God's but in God's choice to claim you in the waters of baptism and mark you with the cross of Christ for now and forevermore. To be Lutheran is to hunger and thirst not for the food that must eaten and drunk over and over again but to feast upon the flesh of Christ and the blood of Christ that feeds us eternal life. To be Lutheran is to live in the clothing of Christ's righteousness and to die in confidence that because He lives, you live. This is Larry's legacy and this is what made Larry wise.
We are constantly tempted to believe that we are what we make of ourselves, that the measure of our lives is determined by the accolades and recognition of others, and that our legacy lies in our accomplishments. These things offer us nothing lasting and their value is but passing. But the love of Christ who takes our sins upon Himself, who dies our death so that we might live, and who lives to take us into His eternal presence, that is what lasts. The steadfast love of the Lord endures forever.
And because of this, those whom the Lord loves and has redeemed endure forever. Larry lives forever.
To you, his family and friends, and to those with whom he sat on Sunday morning in this sanctuary, the comfort for our grief and the hope in the face of our loss is in Christ.
To know the Lord's love, to love the habitation of the Lord's house, to lay our sins before the feet of Jesus, and to live ready to pass through death and the grave to our own joyful resurrection with Christ, this is the only thing that can heal the hole in our hearts, the empty place in our lives, and longing for those whom we love who have died. Larry was a character but he lives a life larger than his stories, that the stories you love to tell about him, and memories that live in you. He lives now in God's nearer presence the life Christ prepared for him and for each of us. So now, let us cling to this faith as our hope in the face of death and the answer to our many questions and fears.
There is no reason to enlarge a man in death greater than he was in life. There is no gain in glossing over a man's sins, faults, and failings as if these did not matter. Larry was a great man because God gave Larry the value of the blood of His Son. This was what gave Larry's life meaning and what gives us hope in his death. Larry's sins, faults, and failings found an answer not in our understanding of them or of him but in the blood of Christ that alone cleanses us from all our sins. Larry put on the clothing of Christ's righteousness in his baptism and God, ever true to His promise, will clothe Larry with the perfect white robes of heavenly glory when Jesus comes again to finish His new creation. Larry knew that if his life mattered it was because the Lord was his shepherd and that he lacked nothing because the Lord was his everything. He could be blunt and generous because He knew a God of truth whose generosity was without limit.
So my friends, those whom the Lord loves, let us find in this moment faith to trust in our Lord Jesus Christ, not only for the grief of a life too suddenly take in death, but for the hope of a great reunion and a grand resurrection in which tears and pain and sins and death will trouble none of us anymore. This was Larry's hope in life and it will be our peace in his death. It is this that makes fools who believe the wisest folks of all. And it is this wisdom that does not disappoint us in the greatest hour of our weakness and need.
There is therefore now no condemnation for those who are in Christ Jesus. If Christ is in you, though your body is dead because of sin, yet shall you live by the Spirit because His righteousness clothes you. And the Spirit of him who raised Jesus from the dead dwells in you and he will give life to your mortal bodies through the Spirit who dwells in you by faith. So what shall we say then? If God is for us, who can be against us? He who did not spare His own Son but willingly gave Him up for us all, will He not also give us all things in Christ? Who can separate us from the love of Christ?
I am persuaded that neither death nor life, angels nor rulers, things present nor things to come, not powers nor height nor depth, no, not anything in creation can separate us from the love of Christ in Christ Jesus, our Lord.
For this Gospel, Larry was willing to be called a fool and for this Gospel so should we. How foolish it is to gather today and expect that those who die in Christ live and will rise again. But this is what Larry believed. And this is why we have hope.
Speaking to you his children and grandchildren and great grandchild, Larry was determined that you be raised in the faith, that you would receive God's kingdom in baptismal water, and that you would be confirmed in that baptismal faith. And so you were. I encourage you to consider this a gift and a legacy and not to disparage such a gift. You can make sure your child's life is full but if the child's soul is empty, you have done that child no favor. Think about this as you consider your own faith and the responsibility you bear for yours as Larry did for you.
Speaking to those who loved Larry but who found that love difficult, love is never easy and it never pays back more than it costs. We see this in Jesus who gave Himself into death for us but who won back only sinners, those whose only claim to fame was that Jesus loved them even to death. So judge love not by you get from it but by the sacrifices you give for it.
Speaking to all of you, let me remind you that the only wisdom that endures is the faith that joyfully acknowledges what God has done in Christ to save you from your sin and to deliver you to everlasting life.