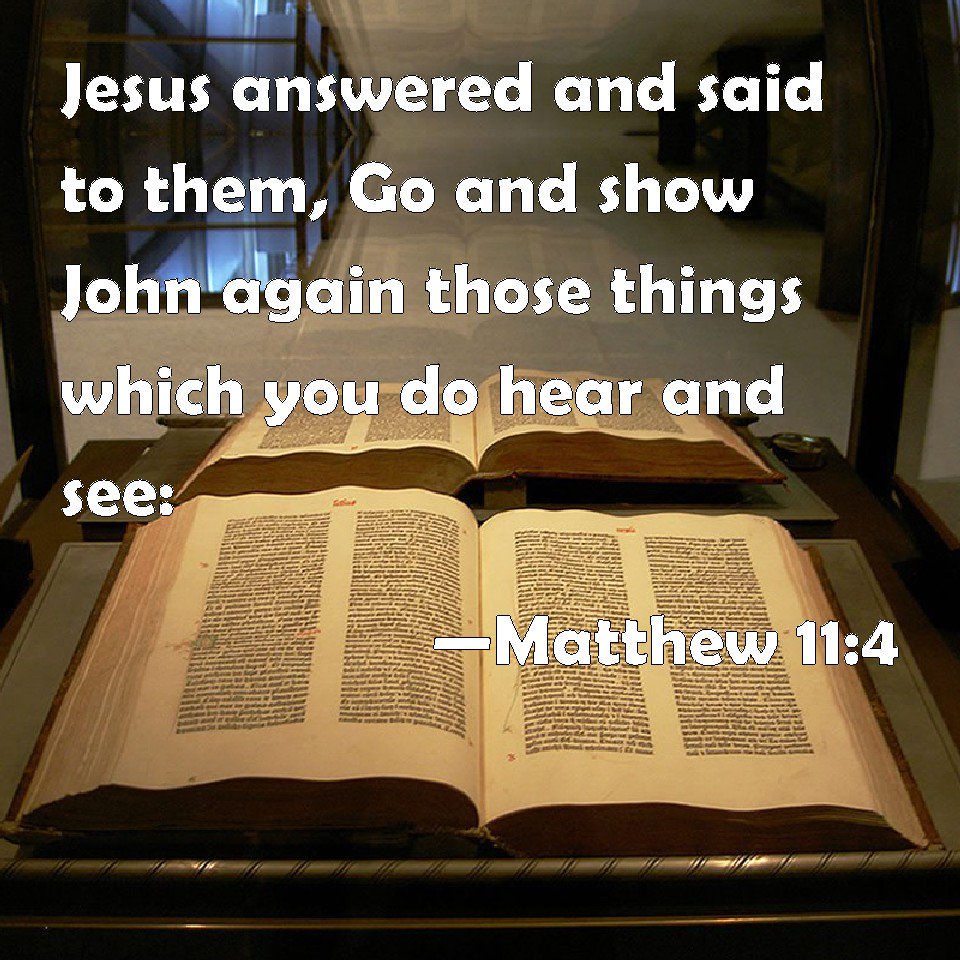 Sermon for Advent 3A, preached by the Rev. Daniel M. Ulrich on Sunday, December 11, 2016.
And Jesus answered them, "Go and tell John what you hear and see: the blind receive their sight and the lame walk, lepers are cleansed and the deaf hear, and the dead are raised up, and the poor have good news preached to them."
(Mt 11:4).
Opposite Day was always my favorite day of the month in grade school. On this day the alphabetical order was reversed, and I got to be in the front of the line. I got to lead everyone to the lunch and to recess. This was a great day of reversal, and I loved it. But there was a problem with Opposite Day...it was only one day. This reversal wasn't everlasting, but the reversal Christ brings is. Jesus came and reversed all that sin and Satan did. This was His purpose, to undo that which Satan did, to reverse the sin and death that infected God's creation.
On the sixth day, after God had completed His work of creation, after He spoke the sun and moon, the plants and the animals into existence, after He breathed life into Adam and Eve, He looked at all He made and it was very good (Gn 1:31). Life was the way it was supposed to be. The earth brought forth food. Adam and Eve's work in the Garden was enjoyable. Everything lived, there was no disease, no death. There was peace and harmony between our parents and creation, between God and man.
Life was going the way God designed it...until we disobeyed God. Instead of listening to and trusting God, our first parents listened to Satan. They trusted his lies and gave into his temptation. Satan led us away from God, he led us into sin, and this destroyed God's perfect creation. From that moment on, death and destruction filled the earth.
No longer was work enjoyable. The pain of childbirth would be increased for Eve (Gn 3:16). The ground would bring forth thorns and thistles, and Adam would have a difficult time harvesting food (Gn 3:17). Peace and harmony were no more. Sin separated us from one another, and it separated us from God.
At the Fall, life seemed hopeless, but it wasn't. God gave our parents hope, He gave us hope in the promise of the One to come who'd reverse all of this, the One who'd defeat Satan.
God cursed Satan saying, "I will put enmity between you and the woman, and between your offspring and hers; he will crush your head and you will strike his heel" (Gn 3:15 NIV). This was the first proclamation of the Gospel. God promised that He'd send the One who'd conquer Satan and restore life and creation back to the way it was supposed to be. Adam and Eve trusted in this promise, and so did all of God's people throughout the generations.
God continued to give His people hope in the coming One as He spoke through His prophets. Through Isaiah He said when the Messiah came the wilderness and desert would be glad and blossom (Is 35:1-2). Waters would break forth and the burning sand would become a pool (Is 35:6-7). The weak would be strengthened (Is 35:3), the blind would see, the deaf would hear, the lame would leap like a deer, and the mute would sing for joy (Is 35:5-6). When the promised One came, there'd be peace and harmony. There'd be salvation for the righteous ones of God and the unrighteous would be punished.
This reversal came in Jesus Christ, the Son of God, born of the Virgin Mary on Christmas Day. He's the promised offspring of the woman who defeated Satan. He crushed that liar's head, not with a club or sword like we'd expect, but with His very own sacrificial death on the cross and resurrection from the dead.
The cross is the Great Reversal, where sinless Jesus took our sins upon Himself and died their death so that you might live. Christ your Savior suffered our punishment so that you're forgiven your sins. He took our unrighteousness and gives you His righteousness. He gives you salvation in the kingdom of heaven. In this kingdom there's no weakness, blindness, deafness, disease; there's no sin or death. In this kingdom, you live in the peace and harmony that God intended for His creation.
The reversal that Jesus brought with Him isn't always easy for us to see because it doesn't look like what we're expecting. John the Baptist even had a hard time with this. He proclaimed the coming Messiah, the promised One spoken of to Adam and Eve. He called people to repentance because the kingdom of heaven was at hand (Mt 3:2). He spoke of the promised salvation for God's righteous ones and the destruction of the unrighteous. He knew Jesus was the One, the Lamb of God, but he didn't see the kingdom he expected. Instead, John saw the bars of a prison cell, and this didn't make sense to him. He did the Lord's work and yet he was suffering. So he sent his disciples to Jesus asking, "Are you the one who is to come, or shall we look for another?" (Mt 11:3).
Jesus's answer confirmed that He was the One. He pointed John to all the miracles He did: the blind see, the deaf hear, the lame walk, lepers are cleansed, and even the dead are raised. Jesus was doing all that the prophet Isaiah and others said He would do. Jesus' miracles showed He was the One and pointed to His salvation.
We don't always see this salvation though, and like John we might ask, "Is Jesus the one, or should we look for another." We still see the darkness of our sin as we continue to give into Satan's temptations. We see family members suffering all sorts of disease and sickness. Death is all around us. With all of this we can begin to question. Did Jesus really bring a reversal? Did He complete His work?
Yes! Yes He did. Christ has already defeated sin, death, and the devil. His reversing and redeeming work was completed on the cross. It was completed when He cried out, "It is finished" (Jn 20:30). It was completed when He rose from the dead and walked out of the tomb. And we'll see this completed, everlasting reversal in full when He comes again. But until then, we see and hear of it only with eyes and ears of faith.
With eyes of faith we see it in the waters of Baptism as those waters flow over our heads, cleansing us of our sins. We see it in the bread and cup of the Lord's Supper that is Christ's sacrificed body and blood, given and shed for the forgiveness of sins. With ears of faith we hear the good news that's preached to the poor. We hear the Gospel of our Savior proclaimed. We hear God's absolution spoken, applied to our sins, forgiving them.
With opened eyes and ears of faith, we wait with certain hope for Christ's second coming. Like a farmer who patiently waits for his harvest, we wait patiently with steadfastness for our Savior. Christ's birth started the reversal of everything that sin and Satan did. Jesus' miracles were signs that He was restoring life back to the way God created it to be. Christ redeemed us from Satan's control with His blood, and He saved us from death with His death. Jesus' death and resurrection reversed it all, and when He comes again, we'll see this complete reversal, we'll see our salvation fully revealed. In Jesus' name...Amen.