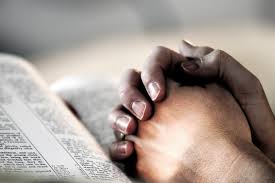 Sermon for Easter 6C, preached on Sunday, May 26, 2019.
Of all the claims of Christianity, claims about the effectiveness or ineffectiveness of prayer are most in dispute. I have people who come to me every week and say, "Pastor, I prayed but the Lord did not answer my prayer." Sitting in the homes of those who were once good Lutheran folks are a people discouraged because they have prayed day and night for something only to find no answer to their prayers – at least not what they wanted. To a few God seems very talkative but to most God is a mask of silence before their petitions.
This is, in John's Gospel, the third time that Jesus says, "Whatever you ask of the Father in My name, he will give it to you." John 14, 15, and now 16 record the same promise. So is Jesus a liar or a mere exaggerator or do these words mean what they say? There is not one of us who cannot lament that we have prayed the Lord with all our heart, mind, soul, and being and come up empty handed. So either there is a hidden secret to getting what you want from God or some impediment in our lives preventing the prayer of righteous people from availing the answer we seek, or maybe we have missed what Jesus is promising.
Note that our Lord does not promise that whatever we desire, we will get. Once Herod was so enamored of the dance of his step-daughter Salome that he vowed to give her whatever she asked – up to half his kingdom. Only when the servant brought up the platter with the head of St. John the Baptist did Herod lament a promise made in haste and kept only because he feared losing face before his rich and powerful friends. The Lord makes us no such open ended promise to fulfill every desire of our sinful hearts. We have no pledge from Him that we will get whatever we want. God is no vending machine in which we put in our prayers and await the prize.
Jesus connects our desires with the words "in My name." This does not render the promise mere figurative language but it does place the promise within the context of the faith. Whatever we ask in Jesus' name is not an open ended promise to give us the moon if we want it but to pray from faith, out of faith, and in faith. Whatever we might ask does not free from its prison the unbounded desires of the sinful heart and lay them before God as Salome laid before Herod the demand for the head of John. The promise lies in the context of faith. We pray "in Jesus' name" or to put it another way, from the foot of the cross.
Jesus Himself makes this more clearly in the next sentence of the Gospel reading for today. "Ask, and you will receive, that your joy may be full" He says: "The hour is coming when I will no longer speak to you in figures of speech but will tell you plainly about the Father." The prayers of the faithful are prayed in the context of the hour that is coming when Jesus will not speak in words but in deeds, that is, in the cross. Our prayers are prayed from the vantage point of the cross, by hearts connected to that death by baptism, and by minds who know the saving will and purpose of God through the cross of Jesus Christ. What does this mean? It means that our prayers flow out of our knowledge of God's good and gracious will as revealed by Christ's death upon the cross to redeem us and the whole world.
Prayer is not a matter of catching God on a good day or praying in some secret code or convincing God why He should give us what we desire or asking for the moon and then reminding Him that He promised us nothing less. The people of God pray from the vantage point of the cross where the saving will of God is revealed and as a people who, through the power of the Spirit, have not simply been reconciled to this will and purpose but delight in it. It is not that we begin by trusting in God for the little things and build up to the big ones but God has given us the moon, literally heaven, first in Christ, and from this treasure beyond price we learn to trust Him for the little things of daily live.
But what does this mean, you might be thinking, for me when I have something I want from God and pray for it? How can I pray so that I will be sure to get it? And that is the point. When we offer our prayers through the cross, we pray for those things that are in accord with the saving and will and purpose of God revealed in that cross. He who gave up His only Son, how will He not give us all things in Christ? What things? The things for which Christ became incarnate, for which He suffered, and for which He died and rose again.
Too often we treat God and prayer as if He were some miserly ogre who does not want to give us anything. To often we treat God and prayer as if there were limited grace and God had to pick and choose on whom to bestow the limited quantity of His grace, favor, and mercy. We pray as if our prayers were in competition with others and we had to convince God that we were more worthy, our needs more urgent, and our prayers more righteous.
How foolish we are! The God who has given us all things in Christ, will He withhold anything we need or fail to bestow upon us any of the rich gifts our Savior won for us on the cross that was made by us? Of course not. To pray in Christ's name is to pray from this confidence that God has given us all things in Christ – already – and that He will bestow upon us all things needful and withhold from us all things harmful, so that we may be kept in faith to the day when He comes again to bring us and all His people into His eternal presence – when prayers will no longer be needed as they are today.
I do not say this to tell what you should not be praying for but to place the prayers of your heart within the context of that cross. When we pray as the people of that cross who have received so generously the gift of salvation by our Lord's suffering and death, we know that we can be bold and confident before that cross. We can pray with the greatest assurance that what we pray for through the sacrificial death and life giving resurrection of Jesus will be granted us. We know that whatever the answer, God's good and gracious will cannot let us down.
The Name of Christ has power because He suffered and died on our behalf, fulfilling the Father's will. This is not some secret code word to tack onto the end of our prayers but a people praying from faith, in faith, and for the outcome of that faith. In the Our Father, we say this with a profound economy of words: Thy will be done. We know the will of God in Christ and have seen it on the cross and now, kneeling before the Lord in prayer, we pray for that will to be done, with respect to the concern of our heart now lifted before the throne of God. Whether they are small and insignificant things or the great and impossible things of this life, we pray them as dear children coming to their dear Father who already trust that He will hear and answer us rightly because He has given us Christ and salvation in Him.
Apart from Christ, prayer is a crap shoot. It is a people offering their what ifs to a maybe God. But in the name of Christ, we pray as a people who wear that name by baptism, who know that name through the cross where forgiveness, life, and salvation was won, and who confess that name before the world. Prayer's answer is not nearly as important as what we already know of God and have already been given from God before we even knew to pray.
Apart from Christ, we have nothing certain but eternal death. When we ask God for anything in faith in Christ, when we ask Him to help and heal, forgive and save, comfort and give peace – we pray as Christians. We obey God's command to pray and we trust in His promise to hear and answer. Prayer is the posture of faith. We look to God for every necessity because God has shown us His goodness in giving us His only Son to die and rise for us. We expect mercy from God because mercy is what the cross reveals. To pray is to confess this. Prayers do not work because of many people pray for the same thing but because we already have the answer that counts most of all – the cross.
The sad truth is that we Christians act as if prayer were superstition. Read on Facebook and people who claim faith tell you that if you pray for this cause and pass it on to five of your friends, good things will come. How foolish we are and how pitiful. For we think prayer is answered for any other purpose except the mercy we already know on the cross. We have surrendered the real promise of faith for fake assurances. We have the cross. The Father in heaven knows what you need and He who has given you all things in Christ will hear your prayer and give you the answer that is in accord with that cross – even when the answer is not what we want.
God waits for your prayers. He has planted the cross before you, given you grace beyond measure or imagination, and He who has given you all things, how will He not give You all things in Christ. Whatever you ask in Jesus' name and He will grant. If whether we live or die, we belong to Christ, there is the freedom to pray. We must be taught to pray not because we don't know what the desires of our heart are, but because we don't know who to offer them to. This is what Christ does in the cross and this is why we pray. Amen.