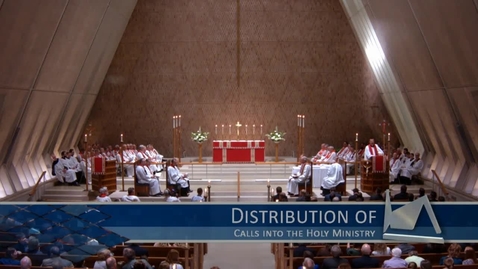 In our jurisdiction those assigned a vicarage (internship for the non-Missouri reader) and those put into the first placement as pastors of the church hear their assignments within a grand worship service attended by the bishops of the church (District Presidents for the Missouri reader) and the seminary faculty. In the pews sit their families, hardly containing their angst and excitement awaiting the solemn announcement. In the old days they clung to an atlas to find out where St. Bernard of the Prairie was in rural Iowa. Today smart phones have made it so much easier to find the hidden address where you will begin your service.
It is a curious practice to some but one of the ancient traditions of our jurisdiction. Of course, we all know that the decision is made by seminary placement officers with the give and take of those responsible for local episcope or ecclesiastical supervision within the districts (dioceses to the non-Missouri). But that does not mean that this is a political process or a random one. In fact, it only works because we really do believe that the Holy Spirit is at work in it (
it seemed good to us and to the Spirit. . .
). Some like to deride this as a modern day version of smoke filled rooms in which trades are made and people tried in various places and districts offering up both pleas for someone and a willingness to forego this round for a higher place in next year's draft. I don't. I believe the human structures do not preclude the work of the Spirit so that the candidate can believe and the church can affirm that God has placed these people where they are placed.
In my own case, my vicarage took place about exactly where I wanted to go but the circumstances I found were not in my plan. My bishop actually died within hours of the placement and I was going to be alone for a goodly time in a parish with hundreds and hundreds in Sunday school and even more in worship each week. When I got there, I found a parish still grieving the death of their pastor, and, having called a pastor, still not fully prepared to receive anyone as their new pastor. I ended up being organist, liturgist, and preacher for the first service each Sunday, assisted and often preached at the two later, and also at the Wednesday services. While some vicars find they preach seldom, I never failed to preach at least twice a week from the get go. In the end, conflict surfaced and the parish suffered both from trying to call someone too quickly and still grieving the loss of the man who had been there for 16 years before he died. But God placed me there for a reason and it was more apparent long after the vicarage year ended than while I was enduring it.
My placement came into the same district but between Albany and New York City in a small parish at the edge of the Catskills. It was a congregation that had been without a pastor for several years and suffered conflict and division. I often joke that I instantly united the congregation because none of them wanted me and so their factions could come together in their uniform belief I was not the right man for that congregation. The truth is that both my wife and I agreed. I would have taken a parish on the outskirts of hell if it had been offered but no calls came. The first years of difficulty, conflict, and challenge gave way to nearly thirteen years of solid growth in faith and in numbers until when it seemed good to us and the Spirit to accept a call to Tennessee, we left amid tears -- ours and theirs. Where I was sure this was either a joke or purposeful trial or mistake on God's part, it proved to be God's wisdom and purpose. Again, this judgment did not come right away but over time.
Without the belief that the Holy Spirit is at work in the process and that God has placed this person here, both congregation and clergy are left to see this as a job and not a calling, an employment instead of a vocation with a destination. That is the most destructive thing for the congregation and for the pastor. The people in the pew must believe that God is at work in bringing this man to the congregation or else they will render a verdict upon his ministry simply on the subjective basis of personality or preference. At the first perceived mistake, they will cry out for him to be fired or removed. Patience comes only when we believe that God is at work and charity is offered not because the man deserves it but because God is worthy. At the same time, the man placed there also needs to believe that he is not there by accident but by God's providential purpose, doing not his own bidding but God's, and working not for his agenda but the Lord's. He will forgive their mistakes and rash judgments not because they are worthy but because God is and God's plan and purpose expect that we will trust Him and His judgment.
So let me say that there will be disappointment and glee, frustration and hope, sighs and smiles on placement day -- probably on the same faces. The people and the pastor will be tested by time and circumstance. When hurt feelings or dispute come, both will be tempted to believe that God made a mistake or was absent from this process but I urge both to resist this judgment. Instead, as people of faith and the faithful pastors whom God sends, it is incumbent upon us to believe that God is not only in the details but present with the people and the pastor and that His purpose and His outcome will not be foiled or flawed. God is in this place. In Ft. Wayne and in St. Louis. God will be in the place where you go -- wherever that will be. I am more convinced of this truth now than I ever was.