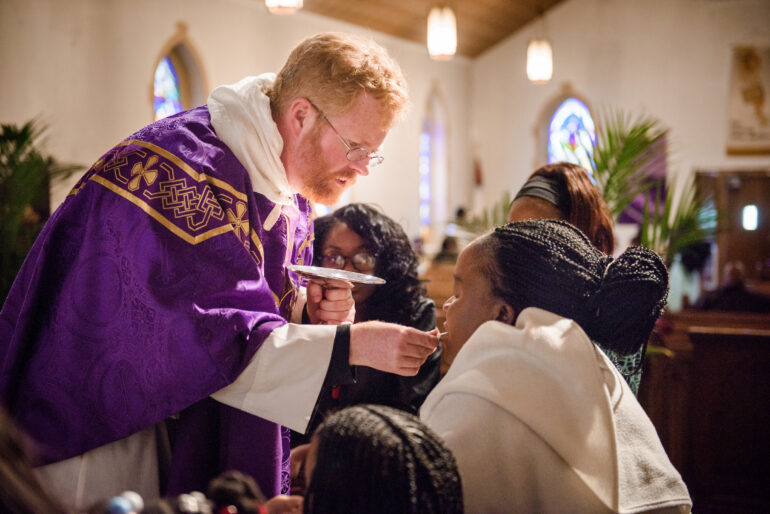 When the Church prays:
O Lord, in this wondrous Sacrament You have left us a remembrance of Your passion. Grant that we may so receive the sacred mystery of Your body and blood that the fruits of Your redemption may continually be manifest in us; for You live and reign with the Father and the Holy Spirit, one God, now and forever,
she is giving thanks for the great gift of Christ Himself
.
Some would suggest that Lutherans have a Word centered piety that is supplemented with the Sacrament. Indeed, that is how it has seemed. Especially when this Wonderful Sacrament was quarterly or monthly and therefore merely occasional but not frequent, the Word was the primary focus. How strange it is, however, that Lutherans would be the ones to put distance between the Word heard in the ear and the visible Word of Christ's flesh and blood eaten and drunk in bread and wine upon the lips! How strange that we might presume the Word and Sacrament
in competition
with each other, as if the Sacrament could distract you from the Word or the other way around!
On the night of nights when the Church recalled the Lord's institution of this Blessed Sacrament in the Upper Room with His disciples and bequeathed to His Church this wondrous sacrament, we must cast aside all ideas that our faith and piety are not sacramental or not primarily sacramental. It is just the opposite. We do not merely have a Word focused piety but understand the Word sacramentally -- that is, the Word that does what it says and bestows what it promises. In this way, Lutheran appreciation for the Word of God goes well beyond its truth, its historicity, and its infallibility. For the Word and the Sacraments are not mere signs but bestow what they sign and deliver what they symbolize. Scriptures most powerful attribute is not its truth but its ability to do what it says. The Sacrament of the Altar's most powerful attribute is not its symbolism (as if we were merely recreating an event from the past) but its ability to give us that of which it speaks.
Some Lutherans do not get this. I have even been accused of failing to preach Christ because I turn people to their baptism and to the Sacrament of the Altar. How strange! For what is baptism except Christ in the water doing what He promised and what is the Eucharist except Christ in bread and wine giving what He promised? If you cannot trust in the Sacrament, you cannot trust in the Word. If Christ is not where He has promised to be and doing what He has promised to do in water, bread, and wine, how on earth can you presume that Christ will be in the Word?
Some have suggested it is not so bad to forego the Sacrament for even the long Lent of corona virus imposed restrictions. Some Lutherans have reminded us that earlier in the last century the norm was Holy Communion four times a year (generally coinciding with the high holy days of the church calendar and not equally spaced out over the year). Others have even pulled out that old saw about abstinence making the heart grow fonder. Still others have asked why it is all that important since we still have the Word (equating online with in person preaching and teaching as well). All of this seems to have mistaken Lutherans with Protestants who have no sacramental theology and, indeed, no sacraments -- only ordinances. That is not who we are. And if it is, it is not who we should be.
On that one night we recalled with thanksgiving the Lord's institution of the Sacrament of His Body and Blood and most of us were prevented from eating the bread of His promise and drinking the wine of His testament. But it is for this we come -- not to the exclusion of the Word but because it was our Lord's intent that on every Sunday we live out our new life He has given us in the Word that speaks with His voice and the communion of His flesh and blood. This is why the Sacrament is wonderful. Christ is there, where He has promised to be, doing what He has pledged to do. And where there are those who will trust in His promise, there the gift of His redemptive work is bestowed and the fruits of His redemptive work are continually manifest in us.
May we soon be able to gather without restriction and meet the Lord where He has promised to be in Word and at the Altar. May we learn to love and and enjoy by His grace the riches of this blest communion so that our faith may be strengthened, our lives in Christ supported, and the good works we were redeemed to do flourish in us. It was never meant to be a choice -- even in time of adversity -- but the fullness of what He has given. Anything less is a painful sacrifice and, we pray, a temporary anomaly.