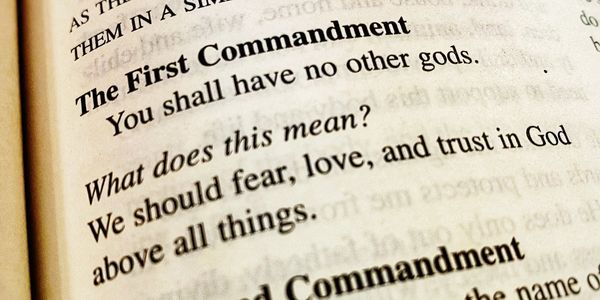 Although I was guilty of it early on, I have come to detest those who would suggest that fear disappears for the faithful. The passage
perfect love casts out all fear
has been used too often to dismiss the holy fear that proceeds not from the guilty heart that does not want to be exposed or punished for what is hidden but rather from the heart that kneels in humble awe of God's mercy. The truth is that we do not stand with God but before Him and the posture of faith is not to stand as equals but to kneel in submission. This proceeds not from the worry that God may squash us (and rightfully so) but from the surprise of grace that lifts the humble and forgives the sins of the guilty penitent. Too many of us want faith to be a
don't worry, be happy
mentality; this is not faith.
The pandemic proved our hearts are prone to fear but to fear the wrong things. Jesus insists that we are not to fear those who can kill the body but the One who can kill body and soul. He does not suggest that fear has no place in faith but faith is fear rightly placed -- the holy fear that never forgets God is God and we are not and cannot begin to fathom what would move such a God to redeem such a guilty, insolent, and shameful people. In the pandemic we were quick to give up everything to fear -- from the place where we worship to the places where we shopped, ate, and even worked. God is not at work in such a fear. It is a fear that is first of all misplaced and a fear that cripples instead of a rightly placed fear that sets free.
As so many others have said, if we fear God and kneel before Him we need fear no one and nothing and can stand before everything. If the Lord is our focus, we have no crippling fear that the good things of this life might be stolen from us or we might endure suffering before entering into glory or we might have to pay a cost for bearing the name of Christ in a world at odds with Him and His purpose. In Christ we no longer fear the threats of this world and its evil masters nor do we fear the judgment of God. Such a servile fear is cast out by love. But instead we have a filial fear -- the fear of being cut off from Him who loved us even to death and the fear of that which offends such redemptive love. It is holy because it does not drive us away from God but into His loving arms. It is not opposed to faith but the rightful fruit of faith inspired by the Holy Spirit.
We do not fear God as an unknown but because we know the Lord we meet Him in the holy fear of faith. The Spirit has not given us a fear as a slave to his master but the holy fear of a son or daughter to their loving Father (Romans 8:15). Ours is a fear that comes from an appreciation of the divinely bestowed gifts of grace unearned and unmerited. What wondrous love is this? I am not worthy, Lord, to enter Your House or for You to enter mine. In this familiar hymn and in this communion prayer we meet this holy fear -- not so much defined as expressed.
We seem inclined to reduce God to the status of a buddy or pal when the rightful posture of faith never forgets that God is God and we are not. Just as we do not aspire to be Him, neither do we presume He is like us. It is this posture that faith teaches and we learn. We are not the children born of right but the adopted children born of grace. We are not the impatient awaiting an inheritance we presume was ours all along but we live in joyful anticipation of the largess of His grace bequeathed to those without any right except what He has given. Nowhere is this more clear than when we reduce worship to an event designed either to amuse us or entertain God. It is neither. We do not worship for the entertainment of our souls and we do not worship God to appease Him or prove to Him that He made a worthy choice to redeem us. We worship Him to receive His gifts. Christ and His gifts are what bids us come into His presence, what we are given not as our due but His generosity, what moves our praise, and what we have to proclaim to the world.
Luther got it exactly right in the first words of the explanation of every commandment. We are to fear, love, and trust in God. Everyone of those words fits and each fits together to define what faith is. Does God wants us to call Him Daddy and curl up in His lap or approach Him on the holy ground that admits we have no right to be there except the Lord bids us come? Where this holy fear does not live, faith does not live either. Because we know God's mercy beyond our worth and His sufficient grace beyond all reason, "we have the confidence to enter the holy places by the blood of Jesus, by the new and living way that he opened for us through the curtain, that is, through his flesh, and since we have a great priest over the house of God, let us draw near with a true heart in full assurance of faith, with our hearts sprinkled clean from an evil conscience and our bodies washed with pure water. Let us hold fast the confession of our hope without wavering, for he who promised is faithful" (Heb 10:19-23). Having an awareness of what Christ accomplished for us, we dare never be casual about such a God or such a love as God has revealed in His Son's death and resurrection. God will not be our toy but He never ceases to be our God and our Savior.