"A church which is rooted in scripture and tradition but not afraid to reimagine the future. This is the sort of church and community that I believe the Lord has called me to assist in fostering, here in this Diocese. Will you join me?"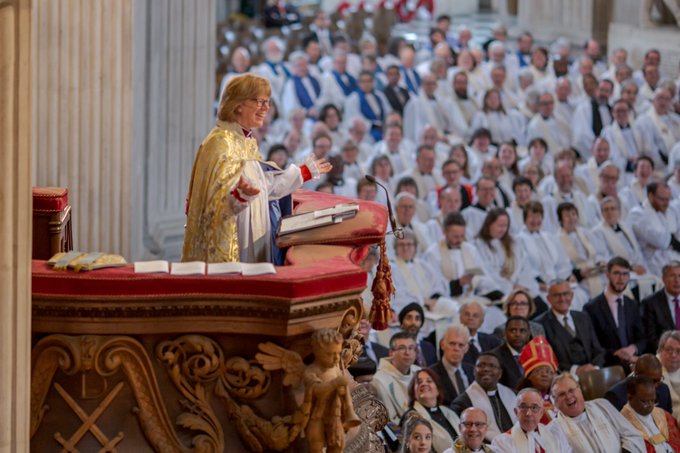 With those words calling on the people to join her in writing a new future, The Rt Revd and Rt Hon Dame Sarah Mullally was installed as the 133rd and first female Bishop of London at St Paul's Cathedral May 12th. She quoted Augustine, John Donne, and spoke about Florence Nightingale, among others. Before her ordination Bishop Sarah was Chief Nursing Officer in the Department of Health. She trained for the ministry at the South East Institute for Theologian Education and served her first curacy at Battersea Fields in Southwark Diocese from 2001 to 2006. She was Canon Residentiary and Canon Treasurer at Salisbury Cathedral before taking up her current role in 2015 as Suffragan Bishop of Crediton in the Diocese of Exeter.
Mullally, not only the first female bishop of London, will also become the first bishop of London to ordain male and female priests since her predecessor, Richard Chartres, declined to ordain either in order to avoid a backlash from anyone. She hopes to focus on three areas: London issues, health and nursing, and "speaking up for marginalised groups: women, the homeless, young people – it's a tough world for them." She added: "I hope to give a voice to women who, for whatever reason, feel marginalised. And to ask what I can do to encourage and empower women to do the best they can."
She hopes that her appointment is part of a continuing process of women taking more leadership roles in the church – perhaps also as archbishops when those positions become vacant. "The challenge is that people often think that, once you've appointed a woman, you've dealt with the issue. You haven't. In London we still have a job to do, to enable women to lead big churches, become area deans and archdeacons. There's still work to do around how you change the culture."
Ahhhh. . . Now that should help the precipitous decline of the Church of England -- London issues, health, and nursing. . . and, of course, the addition of more females to visible positions of leadership. I have never met her and presume she is as well qualified as one needs to be to be chosen to fill the number three leadership role in the CofE but. . . clearly, the CofE is becoming less of a church and more of a society for the preservation of historic religious structures and ceremonies on behalf of quaint English history than it is a functioning church body. Female or not, the bishop will have to look past her three target areas and figure out how not only to rekindle the faith but to restore it to a church body and diocese in which that faith has largely been judged either irrelevant or unnecessary by a host of people who once were active Christians. I am sure it was a grand 90 minute show but that is, I fear, about all it was. . .
In any case, playing lip service to the roots of the faith in Scripture and tradition seems little in the face of a grand desire to re-imagine the church and its future, while relegating these roots to a mere legacy. The Church of England seems to have lost the battle for the mind of its people and has certainly lost the fight on Sunday morning. On the whole, being the first female bishop of London may not mean all that much if she is the last bishop of London. And that is not an outlandish possibility. At age 56, she could have a decade or more to see the numbers of Anglicans in church drop even more and the number of Anglicans who believe a semblance of the 39 articles disappear almost entirely. Re-imagining the future away from Scripture and tradition is the worst of dead ends. While it might not have to mean that direction, I fear the future has already been written for the Church of England with a long history of hollow sounding references to what has been confessed, taught, and witnessed in the past but not so much now.