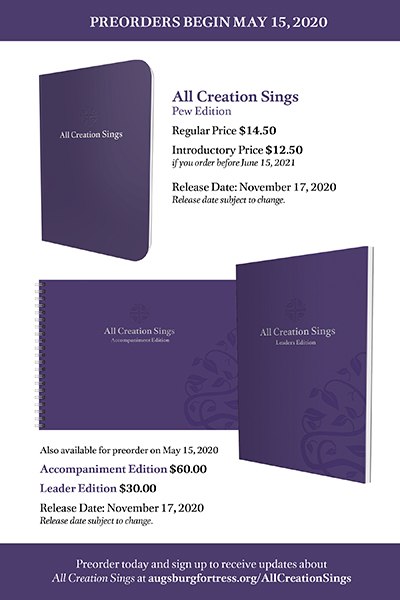 I have posted before on the progress of the WELS on their new hymnal. Now I found that the ELCA publishing house has put together a supplement to
Evangelical Lutheran Worship
, published in 2006. As if 564 hymns and 10 settings of Holy Communion and several daily offices were not enough, this book adds another 200 hymns and songs, 2 more settings of Holy Communion, a Word and Prayer service and
75 new prayers and liturgical formulations.
Hymns, liturgies, and prayers all follow the now established pattern of ELCA worship materials in de-emphasizing male pronouns (also with reference to God) and offer some bilingual help (Spanish) for services. Two-thirds of the hymn texts and half of the tunes are new to the ELCA, at least officially. The emphasis is clearly on what has happened since ELW was published. The official date of release is November 17 of this year for those itching to purchase.
A quick look at the accompaniments suggests that this resource is targeted for non-organ instrumentation, probably for piano and praise bands. That is not surprising. The claim is that All Creation Sings brings together "a wide range of cultural, ethnic, generational, and theological perspectives, all faithfully Lutheran -- of course -- though I am sure some might disagree. The hymns and songs are more likely to be short, ritual songs -- now more in vogue than the longer stanzas typical of older hymns. There are many hymns and songs from Africa, the Caribbean, and other regions. You find some familiar names among the authors and composers but also many new ones. Even a Luther hymn is included as new -- well, at least new to those using ELW -- In the Midst of Early Life. Marty Haugen is well represented. Diversity is clearly one of the operating rules for this resource, as it is for nearly all of the ELCA.
While I think supplements can be very good, I worry about those which only include new hymns and fail to restore to the use of the congregation faithful old hymns which were not included in hymnals (whether because of a shortage of space or preferences for new resources). That is certainly a direction I wish the LCMS would pursue and make available many of the hymns from TLH and LW which were not included in LSB. For example, I have a fondness for Henry Letterman's The Lord's My Shepherd Leading Me and Martin Franzmann's O Kingly Love. We should have these hymns even if some choose not to use them and a supplement is the best place. At least they could be added to the electronic resource, Lutheran Service Builder.
A new supplement is often a prelude to work on a new hymnal (With One Voice and Hymnal Supplement 98 both served this purpose). But I wonder if there is much interest in or stomach for a new hymnal. We will wait and see. Some have already decided that the hymnal is an antiquated resource in our digital world. I have grave reservations about that conclusion. You may decide to purchase a copy but after reviewing the PR I am thinking this is one hymn volume that will probably not find its way to my shelves. So I am not promoting this book but wondering whether or not it will lead to another hymnal project down the road. Time will tell. . .