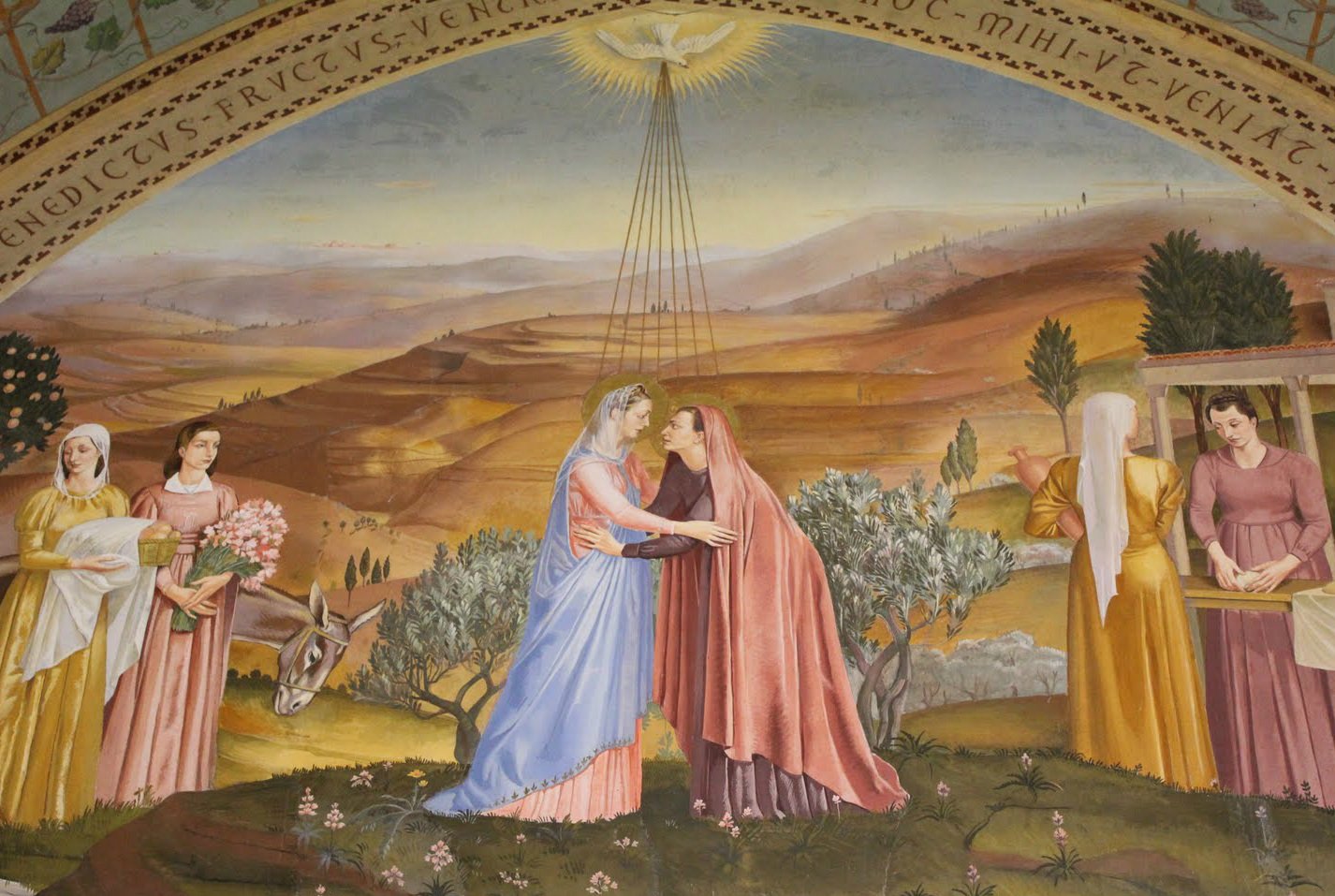 Sermon for Advent 4C, preached on Sunday, December 23, 2018.
By all accounts, this event we are preparing to celebrate should not have been. It began with a woman who should not have been pregnant. Elizabeth was old, too old for her womb to conceive a child and too old to carry that child to term and too old to care for that child when born. There is a reason young people have children – it is because old people are simply not up to it. We are not only wearied by the prospect of keeping up with the child in youth, we are too filled with life's disappointments to do anything but fear for their future. So us old people simply spoil our grandchildren in hopes that when life hits them in the gut, they will recall us and not give into bitterness and hate.
Elizabeth was well past the age of having a child or raising one and her husband even older, weaker, and more tired. Yet in the surprise of this all, her ancient womb is filled with life by the promise of God. He will not be the Savior but he will prepare His way. He is a cousin to Jesus but more than that, He is the forerunner who prepares His way, who sounds the trumpet call of repentance, and announces that the new thing the Lord had long ago promised was now being done. He jumped in his mother's womb as sign and testament that this was not only his destiny but his choice.
Mary was equally the unlikely candidate for motherhood. It was not simply that she was young – we have no idea just how young she was – but she was a virgin. When the archangel came to call to tell her the future God had prepared for her, she answered "How can this be since I am a virgin?" Even virgins know where children come from and she knew that she had never been with a man and that there was no mortal chance that her womb could conceive a son. Except that with God all things are possible. What man can only imagine, God delivers. And He delivered to her virgin womb the flesh and blood of His one and only Son. She knew that there was great risk in His offer but she was so confident of His grace that she did the most unlikely thing – she consented to become the Mother of God.
When these two unlikely mothers meet, both with wombs filled with God's promise, what does Elizabeth say of Mary? Blessed is she who believed that what the Lord promised will be accomplished in her. For what brings these two unlikely mothers together is faith. With man it is impossible. An old woman with a son in her womb and a virgin also with a son. Both of these women believed the word the Lord spoke to them and trusted in Him to do what neither could do without Him. The hallmark of their life was this crowning moment – not how or even why but because the Lord said so, they believed His Word. And that is where you and I enter this story. That is where Elizabeth mother of John and Mary mother of Jesus invite us to stand with them in faith.
In faith Elizabeth received the promise of a son to her womb. In faith she rejoiced to see Mary, virgin mother of our Lord. In faith John jumped in the womb. In faith Mary listened to the archangel's announcement. In faith, when she could not see how this could all be, she acquiesced to the Lord's will and purpose. In faith she beheld in the face of her own Son the Savior of the world. In faith we too will kneel and acclaim Jesus God in flesh, on this eve of the eve of the Christ mass. In faith we look at the cross and see our own redemption accomplished. In faith we hear the baptismal promise that God is ours and we are His own children. In faith we listen as through words our sins are forgiven never to condemn us again. In faith we trust that what Jesus says, He means: This is My body and this is My blood. In faith we stare into death and look into the darkness of death and insist this is not the end. In faith we await a new heavens and a new earth and our own place within that glorious and unending future.
Christmas is not about gift or sentiment, not about decoration or family gathering, not about jingle bells or Santa, not about certain smells or foods. It is about faith. The faith that rejoices to believe God keeps His Word, that He has come to deliver His people from their sin and to answer death's claim with the promise of life without end. In this faith we come. We need more than a holiday, more than a few days of distraction, more than a few moments of full bellies and a hint of pleasure. We need nothing less than what Elizabeth rejoiced to see and John in her womb rejoiced to hear and shepherds came to see and wise men came to worship. We need Jesus. We need the power of His life to rescue our lost lives and His holiness to cover our sin. We need His Spirit to teach us the wisdom that begins with the fear of God. We need to learn from Him how to be holy, how to be righteous, how to be good, and how to delight in as well as follow His commands.
Christmas is not many things. It is one thing. It is Jesus. Just maybe it takes it one old woman who never thought she would bear a child and one virgin who did not even think it was possible in order for us to believe this. Just maybe it takes a prophet in the womb to jump for joy thus begin His prophetic ministry even before He is born for us to know what Christmas is and how best to respond to it.
You are just as unlikely as Mary and Elizabeth to be the children of God's promise and the vehicles of His grace and favor to a world still in darkness. But God has called you by name, washed you clean in the waters of your baptism, whispered into your ears the voice of His forgiveness, placed upon your lips the body of Christ and His blood, and set you apart for a holier purpose and a higher calling than the moment, the kind of earthly pleasure which can fill this moment, or for the work that can only endure for today. Like Mary and Elizabeth, you are His people through whom He will work.
So do not merely listen to the story but learn it so that you may tell it to your children and to those around you, whomever they may be. Do not merely delight in a gift but rejoice in the God who gives Himself to you. Do not put away this joy like you will soon put away the presents and the decorations. Do not go back to the way things were before Christmas interrupted everything. This is your call to faith, to trust what eyes cannot see and hands cannot touch. This is your call to faith, to believe that the things of God which are beyond our senses are even more real than the things our senses know. This is your call to faith, to take the radical Word of God for what it says and to make everything, including your feelings the servant of this Word. This is your call to faith, to set aside the life the world calls good in order to live out the goodness of the Lord who loved you enough to become your Savior.
And soon the day will come when empty memories will fade so that your minds and hearts may be full of His present joy. Soon the day will come when you will experience first hand the joy of the angels over one sinner who repents. Soon the day will come the rhythm of our earthly lives will give way to a new beat and our lips will learn the new song of eternity. Soon the day will come nothing will diminish your joy and no sorrows will cause your eyes to tear and no disappointments will leaven you wounded. Soon the day will come when calendars and clocks will no more count down our lives and we will wear the glorious bodies of eternity.
But. . . until then. . . Blessed are YOU who believed what the Lord said will be accomplished. In the name of Jesus. Amen.