According to an article in
Christianity Today online
, income brackets which were once unrelated to church attendance are now indicators of church attendance. Many of the poorest Americans are abandoning church as a group.
"In the 1970s, the difference in church attendance among the four income groups was relatively small (about 5%). That gap has widened significantly over the last four decades, with a noticeable spike in recent years. In 2018, a quarter of the wealthiest Americans reported never attending services, while the share of those in the bottom bracket who never darkened a church door was over 35 percent." According to author Ryan Burge this is a relatively new phenomenon.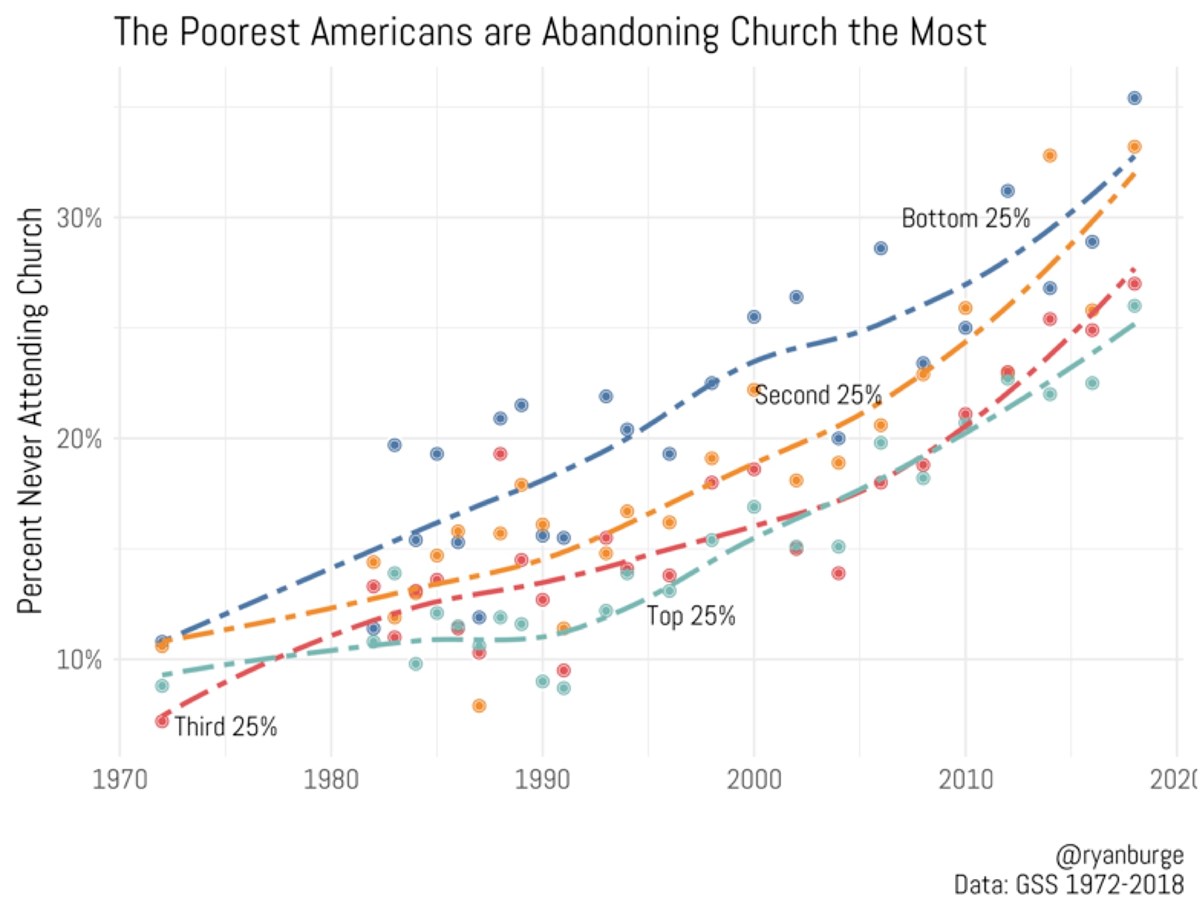 One of the things noted is that people who have less active social lives are more likely to
never
attend a worship service, although the rates of change are noteworthy. In recent decades, the move away from church attendance has corresponded with greater social isolation overall for Americans in the lowest income bracket; they have not replaced their church fellowship with other networks serving the same function.
I have for a long time suggested that the virtual social networks of social media do not connect as much as they isolate and replace the face to face connections people need. It is, in my humble opinion, an unhealthy sign that that our people are retreating from church in the same way they are retreating from other social networks. I am not at all equating social connections with church and worship but admitting that one may influence the other AND that abandonment of corporate worship inevitably weakens and threatens individual faith.
I will admit that where once people sought out crowds, more and more folks are seeking out smaller venues for social connections and the Church is not immune to this. We have in my own parish folks who do not like crowds and who will attend on Thursdays a service with a much smaller attendance for the sake of this discomfort. It does make me wonder, however, if some of the folks who have fallen away have done so at least in part because of this overall retreat from face to face connections with people.
I would be curious as to your experience in this and how you think worship attendance is connected. While the author is troubled by what folks are missing when these social connections are gone, I am more concerned with how this affects the vitality of the person's faith. In my experience, once people give up worship, their faith inevitably weakens and may wither entirely. So does that mean that the poorer folks in the spectrum of income will lose not only their church but their faith? To what extent is this related to the manifold opportunities afforded by live streaming of services that allow a person to spectate without being present. Is this good or bad? So many things to ponder!